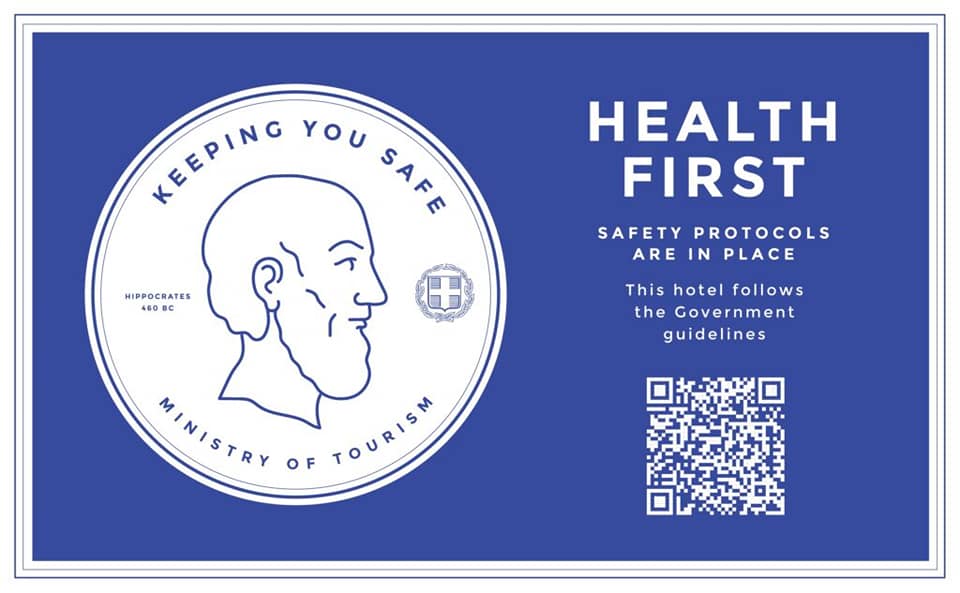 Face mask is mandatory outside the hotel area.
Commitment for a safer stay
We are continuously monitoring and following the changes in recommendations and guidelines of the local governments and the local health authorities to continue working towards providing the best service possible while safeguarding the safety of our guests, partners and employee.
On your next stay with us, there will be some changes you will attend.
The Cyan Clean Promise addresses four key areas in our hotels:
Reception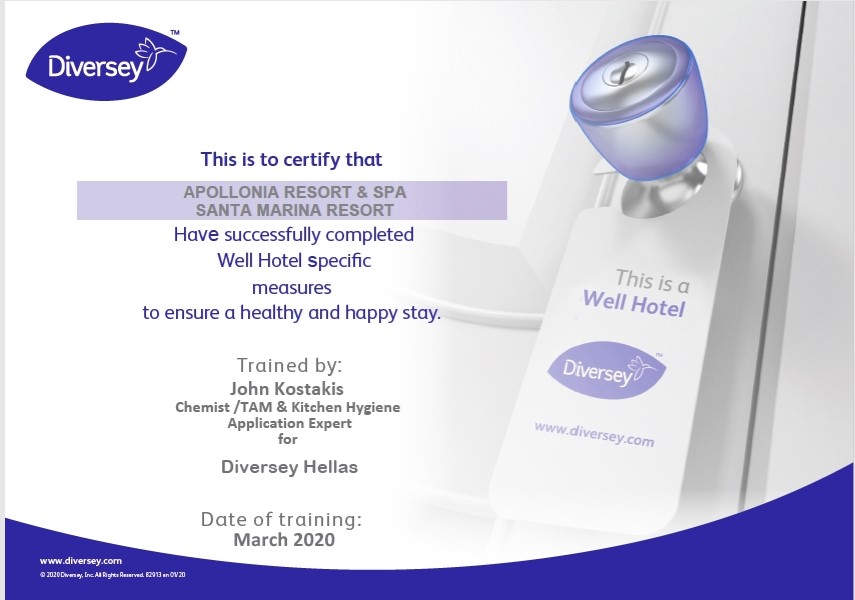 Touchless transactions
Front desk screens
Sanitizer stations
The staff takes the necessary hygiene measures (hand washing), keeps a distance of at least one meter from the customers (avoid handshakes, etc.) and follows the rules of hygiene
A circumventing placement in slots persons belonging to vulnerable groups
When requested, there is a possibility: a) to inform visitors about the policy of the accommodation and the measures it has taken to deal with any incidents, b) to provide useful information for health providers , public and private hospitals, reference hospitals for COVID-19, pharmacies etc. in the area and c) provision of Per-sonal Protective Equipment
Special equipment (medical kit ) for the occurrence of an incident, such as gloves and disposable masks, anti-septics, cleaning wipes, apron, long-sleeved robe, laser thermometer
In the reception desk there is an antiseptic for use by the customer
Disinfection of the receiving surface (reception desk )
In order to maintain distances, the accommodation applies an appropriate configuration of the reception (re-ception desk), with the addition of floor marking at a distance of two meters where the customer will stand
Avoid overcrowding at the check – in / check – out – keeping distance
It is recommended to our customers the electronic payment of accommodation expenses (acceptance of cash in exceptional cases), the electronic sending of bills, invoices and receipts
Disinfection of key cards
Extension of check – out and check – in duration between stays ( check out until 11.00 am and check in from 3.00 pm )
Prohibition of entry into the rooms to non-residents
Public Spaces and Facilities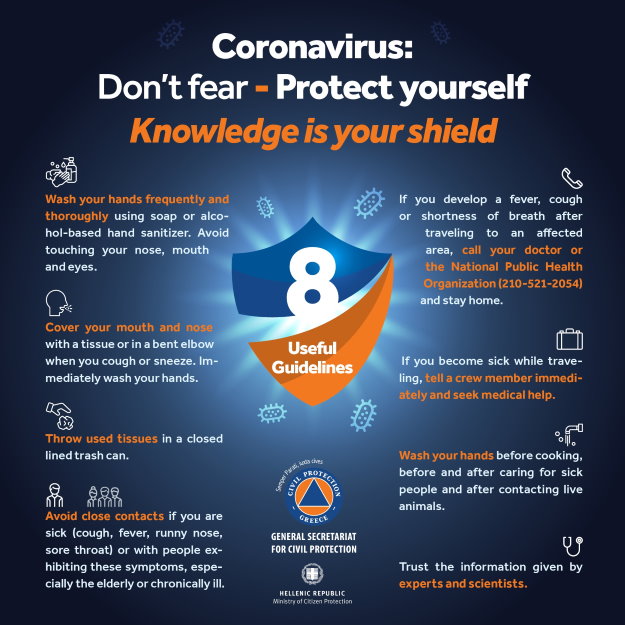 Common areas include a lobby , seating area, outdoor seating, etc. (excluding decks around swimming pools – see above for swimming pools)
Operation of these spaces in accordance with the current legal framework
Recommendation to avoid the use of elevators. Installation of disinfectants at the entrances and recommenda-tion for use at the entrance and exit. Frequent cleaning of elevators  with emphasis on frequently touched sur-faces (handles, knob, etc.)
Marking to remind customers to keep their distance – apply measures such as floor tapes
Antiseptic solutions have been placed in all common areas
The Business center will be closed
Laundry Service will be not offered
Kids entertainment will be only outdoor, the Kids Club rooms will be closed
Playground is closed
We will offer a restricted Entertainment program
All Sport activities with direct body contact are prohibited (e.g. beach-volley, beach-football)
Fitness Gym is closed
Guest Room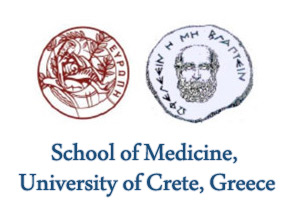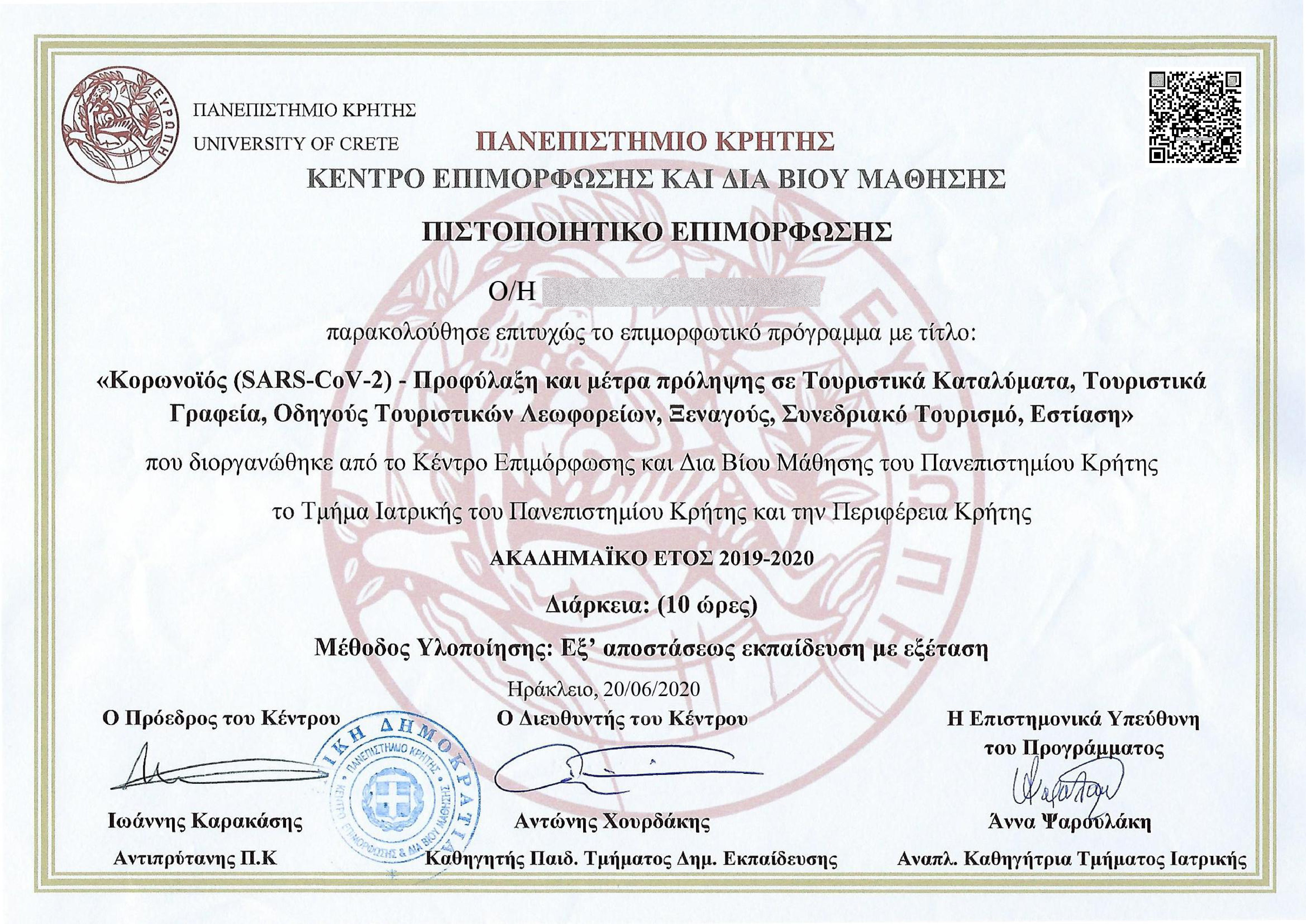 All our team had to take part at the training courses " Coronoid (SARS-CoV-2) – Prophylaxis and Prevention in Accommodations" organized by the University of Crete
Visible verification of sanitized items (e.g. glassware, remote control)
Reduction of in-room furnishings/high-touch items
New laundry protocols
Scheduled a cleaning and disinfection with contract related instructions by the National Public Health Organization
Meticulous cleaning and very good room ventilation during the hours between stays
Adequate staff equipment (gloves, masks, robe, closed shoes)
The cleaning staff uses a surgical mask of cloth , gloves and a disposable waterproof robe
Remove decorative objects from the rooms (pillows, bedding)
Remove shared multi-use items such as menus, magazines, etc.
Installation of a plastic cover on the TV controls. And replace on new arrival
The fabric surfaces (eg . Upholstery) cleaned with steam device (temperature> 70 ° )
Opening doors and windows for natural ventilation of the room daily
Placed individual antiseptic liquid in each room & disinfection wipes
Strict observance of the rules of hygiene by the personnel involved in the sorting of dirty linen using the ap-propriate equipment (special disposable apron over the uniform, gloves and mask)
Used fabrics, bedding and towels are placed in special, closed, in marked bags in order to be transported to the laundry areas
Careful separation (marking) of unclean and clean linen areas
The carts for transporting closed bags with linen are disinfected after each use
When storing clean clothing, care is taken to keep it in good and clean condition. The same applies to the transfer of clothing to use areas (rooms, restaurants, etc.)
Use of electrostatic technology
Food & Beverage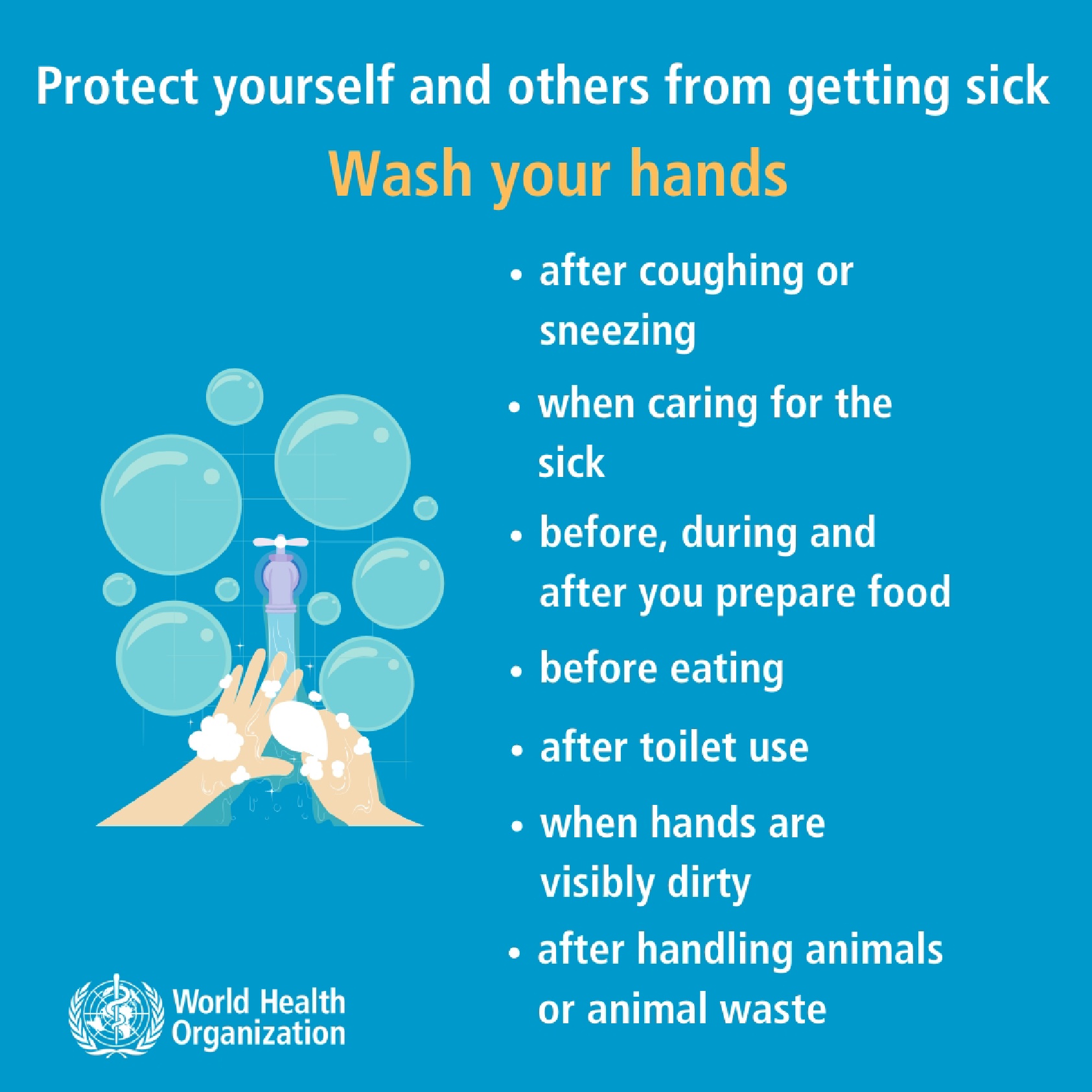 Opening time Bars from 10:00 – 00:00
New standards and service approach
Room-service upon request
 Restaurant operation, bar, etc. according to the current legal framework
Restaurant and bar with configured space based on the provisions
Restaurant – bar with extended hours
Meals will be served
There will be paper towels on the tables instead of fabric, individual antiseptic wipes
Removal of printed catalogs, the menu will be available in electronic form
Use of dish and glass cover